Copper Mountain, Colorado

Part of the Colorado Rockies Ten Mile Range, a region densely populated with some of the most famous ski resorts in the world, Copper is already considered by many as the best terrain for real skiers and snowboarders.
Differentiating itself as fiercely independent, irreverent even, Copper focuses a single-minded determination on delivering the ultimate to its visitors.
Copper is serious fun for the mountain purist. Along with world-class skiing and snowboarding, tap into tubing or tobogganing in the winter. Summer activities include golf, hiking, horseback riding, climbing, summer luge and orienteering.
Just twenty miles from three Ski the Summit areas (Arapahoe Basin, Breckenridge, Keystone) and 20 miles in the other direction to Vail and Beaver Creek, Copper is about the outdoors. Fresh, clean and authentic.
While in Copper Mountain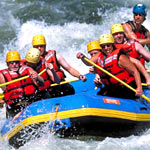 Colorado is famous for its white water, and nowhere is this more apparent than the Arkansas River's Browns Canyon run. One of the best day trips in the U.S., granite canyon walls and 14,000 foot peaks are the backdrop for classic whitewater rapids.
Located at the base of the resort, Copper Creek Golf Club is North America¹s highest golf club at an elevation of 9,700 feet. Routed through towering pines, quaking aspens, crystal clear creeks and lakes, the Raven Golf Club overloads the senses with Colorado's mountain beauty.
If road biking is your thing, over 75 miles of paved trails are accessible from Copper Mountain. It is a scenic way to view the surrounding national forests and nearby mountain communities. Considered the best kept secret in Summit County riding circles, Copper's own Boondoggle trail offers exhilarating mountain biking.
Afterwards, swap tall tales over huge sandwiches and a cool one at Endo¹s Adrenaline Café, Copper's newest restaurant and bar. In nearby Frisco, make a reservation to dine at the Uptown Bistro on Main Street (970-668-4728) with its inventive cuisine served in a casual atmosphere.
For more information on Copper Mountain, click here.
Eats & Drinks with Heart & Soul at Copper Mountain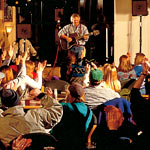 Think of the ultimate American playground. A legendary mountain, a mythical experience. Copper Mountain, Colorado. For years free-spirited individuals have been flocking to Copper's snowy peaks and its spectacular landscape. Located in the famed corridor of great Colorado ski resorts including Vail, Breckenridge and Keystone, Copper stands apart. Today, Copper's reputation has grown to include dinign and entertainment experiences worthy of this unique mountain.

View all Properties in Copper Mountain, Colorado