Summerland Resort, British Columbia
Summerland
The Okanagan area of southern British Columbia is situated on the Sonoran Desert, a wide stretch of land that runs the length of North America from Mexico to British Columbia. Nestled among fruit orchards and vineyards on the western shore of Okanagan Lake, this city of 12,000 residents is perfectly positioned to take advantage of the arid Mediterranean-like weather of the Okanagan Valley. Enjoy a round of golf or a wine tasting tour and leisurely lunch at one of the many local wineries and then head back to your vacation home to enjoy Lake Okanagan up close and personal.
Lake Okanagan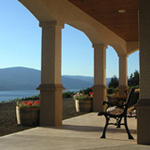 The largest of a chain of five lakes in the Thompson-Okanagan region, Lake Okanagan supports a variety of activities from house-boating to waterskiing. Houseboats can be rented for extended touring around the lake, and fishing is a popular pastime with the water full of rainbow trout, carp and ling cod. Be careful of Ogopogo - the Loch Ness monster of Lake Okanagan. With a water temperature that reaches 75 degrees in the summer, and 320 km (100 miles) of shoreline, visitors should not forget their swimming suits.
Wineries and Fruit Orchards
The Okanagan Valley, stretching from Osoyoos at the US border north to Vernon, is laden with orchards, making it especially appealing in spring when the fruit trees are in full bloom. The best time to pick up some of the valley's bounty is mid-August through early September. However, as early as the end of June, the fruit starts ripening: cherries (late June through mid-July), peaches (mid-July through September), pears (August through September), apricots (mid-July through mid-August), plums (September), apples (August through October), and grapes (September through mid-October).
Fruit aside, winemaking is the hot ticket in the Okanagan, and British Columbians have long taken pride in their wines. Nearly three dozen quaint wineries set in lush vineyards operate in the Okanagan Valley, welcoming visitors to sample world class wines while enjoying the scenery of nearby lakes and mountains. Take a self-guided wine tour, and experience the magic first hand.
Sonoran Estate Winery
Sonaran Estate Winery is located near the Northern boundary of Summerland, on the lakefront with a panoramic view across beautiful Lake Okanagan, toward the vineyards and orchards of Naramata and the wilderness area of Okanagan Mountain Park.
A visit to Sonoran Estate is a treat for all your senses. Let your gaze wander across the hazy mountain ranges that seem to go on forever until they reach the blue summer sky. It's a little piece of paradise, with heavenly wines to match.
Thornhaven Estates Winery
A small and intimate winery, visitors are welcome at Thornhaven for complimentary wine tastings. Enjoy the view of the surrounding vineyard with a glass of wine along with an assortment of cheese, deli meats and baguettes available for purchase. Or pack a picnic and enjoy the Santa Fe style courtyard in the Okanagan summer sun. Wines made at Thornhaven include Pinot Noir, Chardonnay, Pinot Meunier, Sauvignon Blanc and Gewurztraminer. Open daily from May 1 to mid October.
Sumac Ridge Estate Winery
This 155-acre winery has free half-hour tours of the vineyard, followed by a tasting of featured wines. Souvenirs, wine glasses, books and spirits available at the wine shop.
Dirty LaundryVineyard
Dirty Laundry Vineyard is located in Summerland, overlooking other vineyards and orchards, Trout Creek Canyon and the Kettle Valley Railway Trestle. Wines produced at the vineyard are made 100% from grapes grown on the premises. Three styles of Gewurztraminer, Pinot Gris, Riesling and late harvest Chardonnay are produced as well as a Rose. Tours are available.
Adora Estate Winery
While a small winery, Adora is gaining large acclaim for their bold and robust wines. Their wines are available across Canada, and they can be visited at their vineyard in Summerland. Their signature wines Decorus and Maximus bear Latin names but the vintage is written in Roman Numerals. Winemaking philosophy: make intense wines, blended to put the spice points in and mature slowly.
Local attractions
Local attractions include the Summerland Ornamental Gardens, which houses a horticultural interpretive center. The Canyon View Path is linked to the center and offers stirring views of the Kettle Valley Railway Bridge and the famous Trout Creek Canyon. The Summerland Museum and Archives provides a glimpse back to the past with informative displays and videos about the valley's early days.
Kickininee Provincial Park
A favorite destination for snorkeling fans and sunbathers. The park has three beaches bordering Okanagan Lake. During the winter, skiers and snowboarders frequent Apex Mountain Resort, located southwest of Penticton - an easy commute from Summerland.
The Kettle Valley Steam Railway
Unique in the Okanagan Valley– a place where you can step back in time and experience rail travel as it was almost one hundred years ago. Beautiful vistas unfold as you wind your way through Prairie Valley – a quilted patchwork of lush orchards, vineyards and fields of green. Rock cuts and natural landscapes provide another kind of beauty as the train takes you onto the Trout Creek Trestle Bridge 238 ft (73 metres) above the canyon floor. Powered by a restored 1912 locomotive called the 3716 or a 1924 Shay you can see all from two 1950's passenger coaches (Canyon View & Faulder) and three open air cars. (Kettle, McCulloch and Winslow ) Friendly, informative guides bring the history of the railway alive.
The Legend of Ogopogo
First Nations legend has it that the large lake creature was originally a demon possessed man who had murdered a well known and respected local man named "Old Kan-He-Kan." In memory of this man, his people named the beautiful lake "Okanagan." To pay for his sins, the gods changed the murderer into a lake serpent so he would forever be at the scene of his crime and suffer eternal remorse. Over the generations, the legend gained credibility through retelling and hundreds of reported sightings.
It wasn't until 1872 that the lake creature was actually spotted by a settler. Mrs. John Allison, a resident of Westbank at the time, was frantically watching the lake during a storm looking for her husband. What she saw instead was a large object, same distance out, swimming rapidly against the storm. She reported what she saw and this became the first official sighting of the soon to be famous Ogopogo.

View all Properties in Summerland, BC

View the Summerland Resort Credit Table